State Shirt
Remix State Shirt and He'll Remix You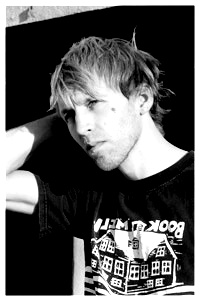 Indie rocker and ccMixter staff fav State Shirt has been tearing it up on college radio and the Internet since before it was cool. Now he's calling out for remixes of his new album " This is Old" and wants you to publish your stems because he'll be collecting all those samples for his next project: a cut-up album made up of original song material based on those samples. Here's how he puts it:



Call for Remixes



My new album " This Is Old" has just been released, and it would be great to have you involved in the remixing and reworking of these songs. I will be featuring all of the remixes on stateshirt.com and will be rewarding the best and most creative remixes with a few goodies and a spot on a (future) This Is Old remix album.



Remix early and remix often!





Call for Samples



I'm creating a new album of music comprised entirely of Creative Commons licensed audio samples. It will be a process of merging, tweaking, remixing and piecing together all of your work.

When you submit your stems and samples to ccMixter make sure to check the '

State Shirt Pool

' checkbox to let me know.

Could be drumbeats, guitar parts, a cappella vocals, noises, accordion, part of a song you never finished, screaming, spoken words, whatever you want to submit.

Thanks so much! Looking forward to our Open Music collaboration.
What we know about State Shirt
From a modest bedroom studio in Los Angeles, State Shirt sculpts fiery indie rock anthems using hand-built loops, and a collection of beat-up pedals, guitars and obsolete electronics. The Massachusetts native got started with music at an early age, capturing hundreds of short songs on a hand-me-down cassette recorder, regularly giving out new tapes to friends.

After a long hiatus from music, the vibrant SongFight community inspired State Shirt to start writing and recording again. His 2004 debut album Don't Die received abundant positive acclaim and generous college radio airplay. Looking forward, State Shirt is seeking all new kinds of collaboration. His new album This Is Old is available on CD as well as a free download, to be shared and used freely under a Creative Commons license.

"It seems like there is still an outdated mentality regarding music in Los Angeles. It's been more difficult to find musical collaborators here than anywhere else I've lived. Creative Commons is the perfect antidote for a collapsing landscape still clinging to traditional copyright. I hope more artists discover that freedom, flexibility, collaboration an community are now an option. I also hope that my fellow ccmixters would want to get involved with me, in both the creation and re-creation of music."
Instruction and Downloads
1. Download the pieces of "This is Old" from the links below.

2. Make a remix.

3. Post your remix using the ' Submit Remix' form.

4. Check the '

State Shirt Pool

' checkbox in the submit form and he will put your remix into the pool he will use for his cut-up album.

5. Even better: Upload any samples and stems you created. Here's some help on how to do that.



Big Size Bites



If you like few download but bigger files or you want the uncompressed stems for the entire "This is Old" album, you can download them as (big) ZIP archives from:

stateshirt.com/music/source



Bite Size Parts



Or you can download smaller portions from here: