Magic Hours Secret Mixter
Magic Hours Secret Mixter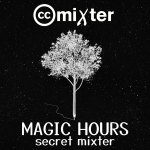 "Those who dream by day are cognizant of many things which escape those who dream only by night."
" ~Edgar Allan Poe
The Magic Hour Secret Mixter is all about sharing the sweet spot. It's universally known as that special time of day when the light from the sun casts a glow on the scene. When the sunlight matches the streetlights. It happens just before sunrise and just before sunset, where the moment seems to hang in the balance. Where time stops and the magic starts.
In music, the magic hour could be defined by those times when you catch a fire, when you meet the muse, when you transcend expectation and mark the moment with resonance.
From one perspective, the magic hour happens twice a day. From another perspective, there's a magic hour always happening somewhere. May that somewhere be where you find yourself while mixing your Secret assignment!
Explore the creativity of your own magic hour and give the gift of a remix — shhhhh, keep it a secret until upload day.
Sign up between June 20-July 3
Assignments go out July 4
Upload day is July 18

Join us in the Magic Hour!
(New to Secret Mixters? Read
this first
before you sign up.)
Uploading
The sign up period for this mixup is closed. The mixup particpants should be uploading right now(!)
View the results
as a playlist
.