Imaginashun
Call for Remixes
Imaginashun - Power to the people
A global collaboration based around DJ Vadim's new album - U Can't Lurn Imaginashun.
We're building on what we did last time on CCMixter with 'The Soundcatcher' album's remix competition and then putting up the whole album for remix. We put out remixes from the community on the follow up album - Soundcatcher Extras - re-rubs of Kill Kill Kill by Jr. Eakee (a very heavy dub remix) and Deface Groove (a deep house remix). The album went out to critical acclaim and we very much enjoyed going through the 100's of great mixes. A very hard job to pick a winner when so many were so good.
For this album we're again going to put up the entire album. In August we'll be putting together a digital release called 'Imaginashun - Power to the people,' which will be chocker block with remixes from pro's and bedroom producers from around the world, along with images from cartoonists, graffiti artists and illustrators.
DJ Vadim's new album comes out May 25th 2009. We're starting off putting up just 2 tracks, but more will follow…
'Imaginashun - Power to the people, we want it to be a global collaboration, but beyond that is not really an idea that we want to project too much 'control' over! We just want to see what happens and it's your imaginashun that'll guide what happens. We just want to put something put out in the Autumn, but what that is we'll find out!
Instruction and Downloads
1. We're starting off with just 2 tracks, but when the album is released we'll be releasing the rest gradually. Download these stems from the links below.
2. Make a remix.
3. Post your remix using the "Submit Remix" form and DJ Vadim will put your remix into the pool he will use for the global collaboration album.
4. Even better: Upload any samples and stems you created along with the remix. Here's some help on how to do that.
Tracks
SOLDIER. Featuring Big Red
Written by V. Peare / 5Nizza / Stephane Joachim
keys/bass - John The Don Ellis
Big Size Bites
If you like fewer downloads but bigger files or you want the uncompressed stems here:
Or you can download smaller portions from here:
IE: Right-click select 'Save Target As' Mac: Control-click select 'Save Link As'
Soldier AIF Files - here
Soldier FLAC Files - here
Soldier WAV Files - here
*notes: BPM = 70
SATURDAY. Featuring Pugs Atomz
Written by V. Peare / Sterling Price
The Nacrobat Acap
Keys / Bass - Lil Ste Simpson
Outro Chorus - Rjay / DJ Vadim
Big Size Bites
If you like fewer downloads but bigger files or you want the uncompressed stems here:
Or you can download smaller portions from here:
Saturday AIF Files - here
Saturday FLAC Files - here
Saturday WAV Files - here
*notes: BPM = 87
I WANT TO SHOUT OUT. Featuring Sabirajade
Written by V. Peare/
Available as MP3, WAV, FLAC and OGG fomats. Several of the stems are alternative takes released especially for remixing.
Download all files - here.
What we know about DJ Vadim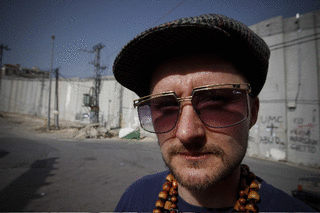 DJ Vadim has played over 1600 gigs in 60 countries during a long career that has seen him signed to Ninja Tune and now BBE Records.
DJ Vadim (aka Vadim Peare) is a prolific DJ and producer born in St. Petersburg, Russia, raised in London and now residing in New York, Berlin and London. His music combines hip hop, Soul, Reggae and electronica and his recording technique involves recording great musicians and very precise sampling. Vadim was brought up in South west London, streets away from fellow producer, Mark B, and as young DJ's they bought samplers and began working on tracks. They drove each other on and their styles developed. Mark B went on to sign with Virgin records and Vadim's first EP was noticed by fast emmerging independent record company - Ninja Tune, who signed Vadim promptly and his first release was released.
He signed to Ninja Tune in 1992, and founded his own independent record label, Jazz Fudge in 1995, he moved to bbe in 2007.
Aside from DJ-ing, he has worked in numerous roles including A&R, promoter, and radio presenter on the BBC's "Around The World In Eight Relays".
He has worked with a variety of musicians including DJ Krush, Company Flow, The Roots, The Pharcyde, Public Enemy, Beat Junkies, Dilated Peoples, Kraftwerk, Ed Rush, Morcheeba, Super Furry Animals and Paul Weller.
His album, "USSR: Life From The Other Side" featured Scratch Perverts, Iriscience (from Dilated Peoples), Blade and Sarah Jones. To promote the record, Vadim put together a live group - The Russian Percussion - consisting of Mr Thing (turntables), Killa Kela (beat box), Blu rum 13 (mc), John Ellis (keyboards). The tour was 200 shows taking in 24 countries including most of Europe and North America.
In addition to his regular album releases, he has also recorded under the names 'Andre Gurov' and 'Little Aida' and 'The Isolationist.' He is also the DJ and producer for Spanish hip hop group 7 Notas 7 Colores, which was nominated for a Latin Grammy.
His central project for 2005-6 was DJ-ing and producing for the hip-hop group One Self with MCs Yarah Bravo and Blu Rum 13. The first One Self album, Children of Possibility was released September 20, 2005, to great acclaim.
2007 saw the move to bbe, a label with heritage of artists like J Dilla, Jazzy Jeff and Will I Am. His Soundcatcher and Soundcatcher extras albums saw tours around the world and critical acclaim.
2008 was a tough year with the diagnosis of Ocular Melanoma, a full recovery was made after surgery and Vadim went on to tour with Slick Rick and DJ Krush and finish his new album.
2009 is booking up quickly with tours to the USA, all over Europe, Israel, Russia and festivals at Soundwave in Croatia and Earthdance in USA.
The launch gig for the new album is May 21th 2009 at Rhythm Factory, Whitechapel, London.
U Can't Lurn Imaginashun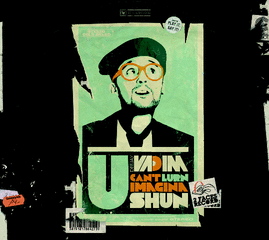 "If you want to make beautiful music, you must play the black and the white notes together." [Richard M. Nixon]
Not many - if any - musical biographies open with quotations from Richard M. Nixon. But DJ Vadim, a.k.a. the John Coltrane of hip hop, ain't exactly your average 'round-the-way' producer. A veteran traveller and quality purveyor of head-nodding beats, Vadim has 4 solo albums, 2 group albums (One Self; The Isolationist), a remix album, countless mix tapes/CDs pls EPs, remixes plus a slew of12s and 7s under his heavyweight belt.
Needless to say, though producer/DJ's these days are a dime-a-dozen, a veteran like Vadim is not the kind o' cat to release 12 tracks of the latest in-vogue soul loop. In fact his new album, "U Can't Lurn Imaginashun" is one of the sickest joints on the block, continuing - and embellishing - the producer's inventive journey into the realm of sound. Anyone that knows anything about Vadim knows to expect the unexpected, and "UCLI" has surprises - and dopeness - in abundance.
Which is extra impressive considering the last year has not been Vadim's happiest. "2008 has been the worst year of my life," he reveals. "I went through the most gut-wrenching emotions due to family trauma and personal health. My father went partially blind after having three failed cataract operations. My mother nearly lost her house in the credit crunch and ended up having anxiety attacks. My wife had a bad illness and I went blind in my left eye. I was diagnosed with eye cancer in summer and had a very precarious operation to remove it. For the first time I had to dwell on the idea of death and not being invincible. I saved my eye, got rid of the cancer and since then I have gone on to complete a new album."
Out of the negative comes the positive. And "U Can't Lurn Imaginashun' is all about mining the deepest parts of the psyche to find inspiration. It's about how, even though we learn so much at school - courses in languages, computer studies, science, religion, sport - and live in a time of unprecedented technological prowess (phones, computers, ipods, music software), imagination is the one thing you must journey deep inside yourself to find.
"Cheap computers and powerful software can't make music for you," states Vadim. "That comes from the imagination, from the will to fight for your life, to love and to struggle. These things can't be learned in universities, but they can be discovered within ourselves. So many people live their lives without asking 'why?' or 'if...? We just accept the rules, play the cards we're dealt with. Being diagnosed with cancer gave me a reason to fight for my life. I wasn't going to let the cancer overcome me - my body nor my passion, music. Even with tragedy knocking at the door I looked within myself to create something new. I felt kindness, love and appreciation from so many people around the world praying and sending positive energy. I didn't accept the cards dealt to me and since recovering I feel healthier for it. I now know who my real friends are. I would never wish what I went through on anyone else, but I wouldn't change it for the world because it made me is making me into a better me"
Naturally, 2008 wasn't 100% bad. Amidst the illness, pain and heartache, Vadim managed to tour worldwide with Fat Freddy's Drop, DJ Krush and Slick Rick. And not only did he find, or rather make, time to write a new album, he also discovered new ways to express himself, such as playing keyboards and even 'singing' - or at least putting his vocals through AutoTune, TalkBox and vocoders, an effort to avoid relying on samples and to reach some new ground.
"This is something I would never have done ten years ago, let alone on my last album," avers Vadim. "I feel like the album bridges gaps between what is eclectic and what is mainstream, as well as between genres like soul, hip hop, reggae, downtempo and electronica. It's definitely a move towards more electronic sounds from The Soundcatcher" - maybe like Soul2Soul meets Daft Punk."
On "U Can't Lurn Imaginashun" Vadim hits every note and every colour, not just the black and white ones. Like all Vadim projects, the songs here are fresh, funky and fun. There are reggae rubs that could sit next to Desmond Decker; neo-soul and conscious-rap jams that recall Q Tip or Jill Scott; experimental gems akin to the work of Flying Lotus or J Dilla. Mostly though it's the sound of music being embraced and loved, and of a re-inspired life being lived. If ATCQ hadn't already used Beats, Rhymes & Life as an album title, it would be equally suitable here…
"Music rots when it gets too far from the dance. Poetry atrophies when it gets too far from music." [Ezra Pound].
Videos
Here are some of the videos we've shot already
- More info soon on the video elements of Imaginashun - Power to the people.
Hidden Treasure Music Video (featuring sabarajade and Kwasi Asante)
Hidden Treasure Live at Favela Chic (featuring sabarajade and Kwasi Asante)
Beijos - feat. Heidi Vogel
DJ Vadim Prepares for the Imaginashun world tour...
^top
Featured Curator: Fourstones
The first mix in our Curratorial Mix Series - from ccMixter admin/developer/mentor Victor Stone: For all the activism in the Open Music movement, nothing pushes the ball forward like brilliant, evocative music. While there is plenty of underground music of all sub-genres at ccMixter, there is also a growing collection of mainstream, above-ground producers who understand the value of sharing as a means of boosting their own creativity along with their exposure. This playlist represents a sampler of "straight" pop and R&B done by producers who have an ear for the popular without sacrificing artistry. Original Mix at ccMixter